Press Release
May 4, 2021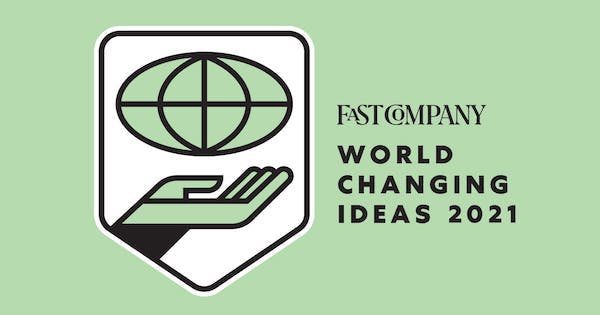 CROWDDRONING by GLOBHE & Above Agency SELECTED AS FINALIST IN THE BEST WORLD CHANGING IDEA EMEA
CATEGORY OF FAST COMPANY'S 2021 WORLD-CHANGING IDEAS AWARDS
From a cleaner freight train to an automated beehive, a way to recycle fabric, and other bold, new technologies, the 5th annual awards honor the products, concepts, companies, policies, and designs that are pursuing innovation for the good of society and the planet.
New York, May 4, 2021 — The winners of Fast Company's 2021 World-Changing Ideas Awards were announced today, honoring the businesses, policies, projects, and concepts that are actively engaged and deeply committed to pursuing innovation when it comes to solving health and climate crises, social injustice, or economic inequality.
When GLOBHE first launched, they were a "Drone Delivery on Demand'' service. Being a purpose-driven startup, GLOBHE saw a much larger demand and opportunity for drone data instead. Therefore, in late 2019, Helena Samsioe (GLOBHE's CEO & founder) made the strategic decision to pivot and evolve the business. She partnered with Above Agency for the transition and launched Crowddroning by GLOBHE in 2020. GLOBHE is now the only service providing "Drone Data on Demand" at a global scale and with a social impact mission. Above Agency designed and built the new digital platform, which has digitalized & automated all of GLOBHE's business in order to make drone data available in a new way and at a scale that has never been possible before.
Crowddroning by GLOBHE connects governments, organizations, and private companies with authorized drone pilots worldwide for terrain maps. These maps help them to monitor, respond to, and prevent disasters on a global scale. Drone pilots can deliver 2D, 3D, Elevation, and Thermal maps of the areas of interest to survey environmental, disease, and disaster impact.
Today they are connected to over 3,800 Drone Pilots in over 80 countries and have shared 2,826,362 drone photos. The United Nations is one of their main clients and they have just signed a contract with a prominent Telecom company.
Currently, Helena Samsioe and her team are using the platform to help combat malaria and dengue fever by identifying mosquito breeding sites early enough to prevent outbreaks. The solution has impacted 100,000 people through the intervention of governmental and non-governmental organizations (NGOs) in addressing cholera and malaria epidemics in Malawi.
Now in its fifth year, the World-Changing Ideas Awards showcase 33 winners, more than 400 finalists, and more than 800 honorable mentions—with Health and Wellness, AI & Data among the most popular categories. A panel of eminent Fast Company editors and reporters selected winners and finalists from a pool of more than 4,000 entries across transportation, education, food, politics, technology, and more. Plus, several new categories were added, including Pandemic Response, Urban Design, and Architecture. The 2021 awards feature entries from across the globe, from Brazil to Denmark to Vietnam.
Showcasing some of the world's most inventive entrepreneurs and companies tackling exigent global challenges, Fast Company's Summer 2021 issue (on newsstands May 10) highlights, among others, a lifesaving bassinet; the world's largest carbon sink, thanks to carbon-eating concrete; 3D-printed schools; an at-home COVID-19 testing kit; a mobile voting app; and the world's cleanest milk.
"When I lived in Zambia, I realized that this photography can be used in data as well, not just beautiful pictures. I started to connect drone pilots who wanted to contribute and be part of providing social impact around the world."Helena Samsioe says, founder of GLOBHE.
"There is no question our society and planet are facing deeply troubling times. So, it's important to recognize organizations that are using their ingenuity, impact, design, scalability, and passion to solve these problems," says Stephanie Mehta, editor-in-chief of Fast Company. "Our journalists, under the leadership of senior editor Morgan Clendaniel, have discovered some of the most groundbreaking projects that have launched since the start of 2020."
About the World-Changing Ideas Awards: World Changing Ideas is one of Fast Company's major annual awards programs and is focused on social good, seeking to elevate finished products and brave concepts that make the world better. A panel of judges from across sectors choose winners, finalists, and honorable mentions based on feasibility and the potential for impact. With the goals of awarding ingenuity and fostering innovation, Fast Company draws attention to ideas with great potential and helps them expand their reach to inspire more people to start working on solving the problems that affect us all.
About GLOBHE Drones: GLOBHE is a drone as a service company with a digital platform, Crowddroning by GLOBHE which is connecting to over 3800 drone pilots and their drones in over 80 countries with the goal to detect and prevent disasters. Through our global drone data on-demand platform we are making drone data available in a whole new way, and at a whole new scale, to help solve real-life challenges around the world.
About Above: Above is a Scandinavian innovation agency driving positive change through a seamless fusion of strategy, design, and tech. They work with the world's boldest companies to create futures that are optimistic, sustainable, and enjoyable. Clients include IKEA, Google, GLOBHE, Scania, Logi, Klarna, Zettle by Paypal just to name a few. Their team of 80+ specialists work from offices in Stockholm and Malmö, Sweden, and satellites in Shenzhen, China, and San Francisco, US. Above agency was founded in 2017 by the merger of design agency Howl and tech agency Frankly.
_____________________________________
For more information contact: Matilda Waara Holmqvist, Head of Marketing GLOBHE, matilda@globhe.com