Introducing GLOBHE Ambassador Sunil Bogati
"Once a new technology rolls over you, if you're not part of the steamroller, you're part of the road"
Stewart Brand.
When I began my journey with drones, the above quote was not that important; I found it on the internet before writing this article. But, looking back, I'm glad to be part of this global drone movement. 
I was introduced to this new technology in 2015 when an earthquake of 7.8 on the Richter scale struck Nepal. Unmanned Aerial Vehicles (UAV), commonly called drones, showed up for rescue and management, initial damage assessment, and later for building back Nepal more resiliently. I fell in love with the technology and followed my heart. 
As of writing, I have implemented drones in the study of potential hydroelectric projects, study and strengthening of transmission lines, mapping of substations, mapping of archaeological sites, access roads, rural area mapping, urban planning, and real estate properties development, etc.
My first drone project was "Virtual 3D modeling of Archeological site using Unmanned Aerial Vehicle" in 2016. The project captured and preserved the blueprint of an archaeological site. In case of disaster and destruction of the physical structures, the blueprint serves as the primary source of detailed data to construct an archeological site as an exact twin of the earlier designs. 
The poster of the blueprint, also my bachelor's third-year project, was selected for display in Geomundus 2017, but sadly, I couldn't travel to the University of Munster, Germany. But, it did enlighten a spark in me for this emerging technology so strongly that I couldn't leave it behind. I actively searched and participated in almost every seminar, training, and business program about drones in Nepal.   

Nepal's first and Asia's Second hydropower plant is now a living museum- Pharping Hydropower project a. Headworks and b. Powerhouse
In 2017, I composed and led the "Kalpavriksha (Wishing Tree)" team in Drone as a service: Business accelerator program organized by WeRobotics in association with Nepal Engineers' Association, Robotics Association of Nepal, and Nepal Flying Labs. Later I joined Dronepal as Chief Technical Officer in its earlier days and helped the team make Nepal's first drone surveying and mapping company. 
I have flown over Nepal's Terai, Hilly, and Himalayan regions and enjoyed capturing the mesmerizing view of snowfall in the mountains. I have mapped the country's inaccessible terrains that have unlocked the true potential of Karnali River, Koshi River, and Bheri River within the study of potential hydropower projects and other data collection forms. 
The work-created job opportunities in the remotest part of Nepal and the data gathered are utilized for constructing roads and transmission lines. Villages that used to be completely cut off are now connected to national road networks, while some will soon be connected. The butterfly effect of small actions will bring significant economic and social transformation, uplifting rural communities' development and lifestyles.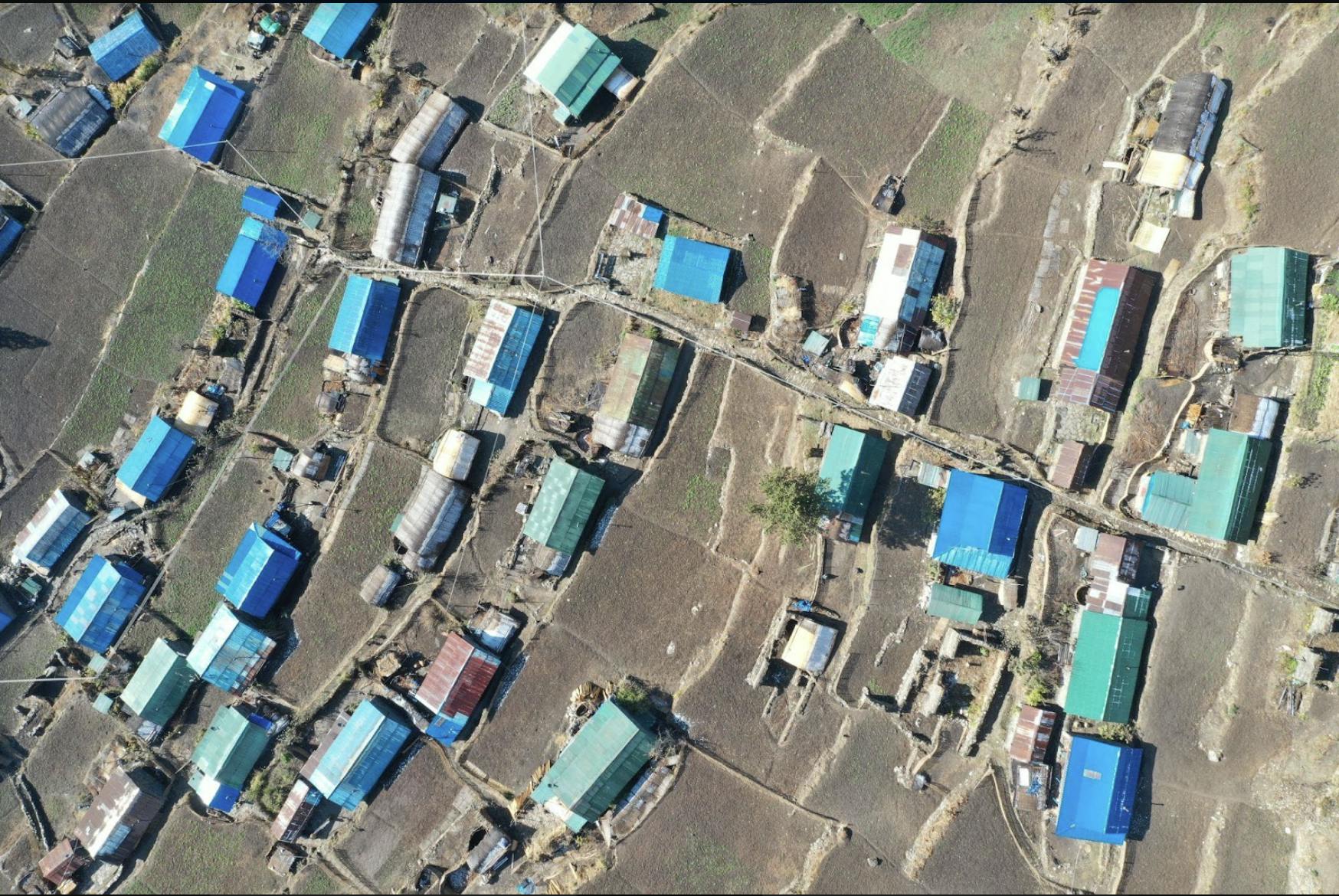 Chepuwa village, Sankhuwasabha, North Eastern Nepal.
The United Nations Sustainable Development Goals of 2030 that my work contributes to:
7 Affordable and Clean Energy 
8 Decent work and economic growth, 
9 Industry, innovation, and Infrastructures, 
11 Sustainable Cities and Communities 
13 Climate action. 
I'm glad my earth observation efforts are creating a sustainable future. Globhe shares the vision which crossed our paths. I carried the mission "Purple Nothura" for setting up Guinness World Records for Globhe. The datasets collected to analyze changes over time showcase climate change.
There is more to do and achieve in the future, a platform as created by Globhe is connecting hundreds of crowdroning operators, and all of these people unite by working to create a sustainable future. Their collective efforts have created the largest online aerial photographs album. 
Drone technology is evolving, and flying robot enthusiasts worldwide need to come together to create a sustainable future. I am fascinated by this technology, its possibilities, and its future. 
I use these small "flying robots" to reach the inaccessible, map and plan a sustainable future at the local level. I'm one of the many fantastic crowddroning operators, and we are making change happen. 
Crowddroning redefines infrastructure development, disaster response, preparedness and management, medical supplies, archaeological mapping, photography, etc. 
We are in the driving seat of a steamroller and creating a sustainable future. 
Bye and namaskar from the top of the world.